Reset Password
Over the past couple of weeks, we've seen multiple CEOs get hacked. On June 5th, Facebook CEO Mark Zuckerberg's LinkedIn, Twitter, and Pintrest were compromised. Apparently, his password was the same across all three social platforms, "dadada"; which in security rankings doesn't stray far from "password" or "abcdef" since there are no capital letters, numbers or symbols. On June 19th, former Twitter CEO Dick Costolo's account was hacked and three tweets were sent out from his account. On June 26th, CEO of Facebook-backed Oculus, Brendan Iribe had his twitter hacked through last month's Myspace breach, and on June 27th Google CEO Sundar Pichai's Quora account was hacked by the group that gained access to Mark Zuckerberg's social accounts. The issue in regards to Twitter's cybersecurity (although dadada is obviously a big part of the issue too) lies in third party authentication. According to Joseph Bernstein from Buzzfeed, "…whichever write-authorized app connected to your Twitter is least secure…is exactly how secure your Twitter account is". Although there are third-party apps from billion dollar companies like Instagram and Facebook, there may be other authorized apps from smaller, possibly-not-well-versed-in-security companies such as "Get it LIVE! by LiveMixtapes.com" which actually resided in Bernstein's library for a mixtape he wanted to download back in 2011.
OurMine, the hacker group behind the compromised accounts of Mark Zuckerberg and Sundar Pichai also hit Spotify founder Daniel Ek and Amazon CTO Werner Vogels. The interesting twist is that OurMine is a security company that offers services to scan your accounts, including social ($30), websites ($1000) and more (the entire company for $5000). Are they black hats or white hats? I believe this Wired article explained it best, "and then there are the confusing ones: hackers whose black hats are covered in the thinnest coat of white paint, or so patchwork that even they don't seem to remember which color they're wearing".
Drumroll Please…Android N is…
Android Nougat. Google launched a website just for this? I was hoping for Nutella, and I think most of the world was too, but their unveiling video was cute so props for that.
Chat Bots
Lastly, a common question when using a chatbot is "What do I type?" Starting today, Facebook Messenger is giving developers quick reply buttons and sticky menu options so that bots are easier to understand and communicate with. Facebook launched the chatbot platform at F8 a few months ago but they were difficult to communicate with due to a lack of understanding of how to phrase questions to receive answers. Now, developers have the option of adding these quick reply buttons in order to offer a more guided experience for users as they interact with chatbots. Other updates from the Facebook messenger chatbot team include star ratings, extended content sending (the ability to send GIFs, audio, video, etc using a bot), and muting a bot as you would with a person.
Are you excited about the long weekend? Because this is how I feel about it…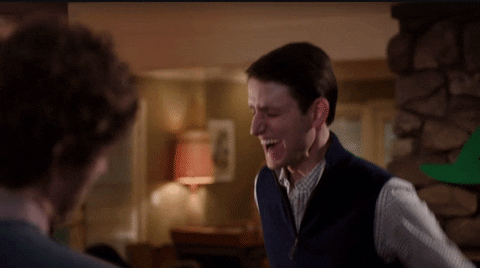 Appropriately enough, the stars of Silicon Valley will be coming to San Diego Comic Con later this month! For those of you going… I'm very jealous.